Medical tourism: New chance in the near future for the Vietnam tourism industry?
Becoming a successful case about preventing and winning the COVID pandemic 19, VietNam is impressed by the world and the Vietnam health sector has also achieved a new step, par with other countries that have developed health care. This reality has opened up a new opportunity for the medical tourism market in Vietnam.
Medical tourism concept
According to The World Health Organization, medical tourism means people traveling abroad to obtain medical treatment with surgical and non-surgical methods (examination and treatment only), meanwhile, wellness tourism focuses on relaxation and the use of relaxing services to strengthen physical and mental health. Nowadays, medical tourism focuses on some popular forms such as: plastic surgery, fertility treatment, dental care, cancer treatment…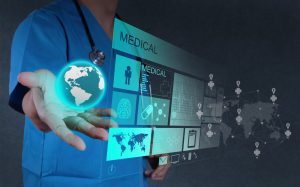 Medical tourism is one of the six trends of world tourism development with responsible tourism, ecotourism, community tourism, smart tourism and, creative tourism, according to the forecast of The World Tourism Organization (UNWTO).
Medical tourism in the world
Medical tourism is not a new trend, in fact, this type of tourism has been boosted for the last 10 years. 14-16 million people are estimated to choose and use the service of medical tourism in 2017. The average cost is about 3,800$ – 6.000$.
According to the statistic of Global Market Insights in 2019, the size of the medical tourism market is valued at 19 billion USD in 2018 and is expected to increase by 6,5% from 2019 to 2025 and reach 30 billion USD in 2025.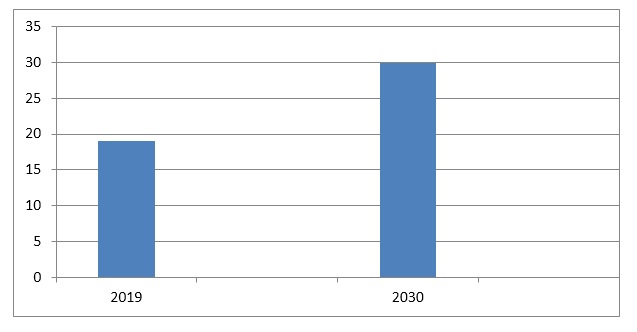 Source Global Market Insights
Many countries have focused on investing in this market because of huge potential and high profit. At the moment, Asia and North American are emerging as potential areas for medical tourism because of the price competition. Comparing to the United States, India provides services of medical tourism 20% cheaper and Thailand's service is 30% cheaper. In the list of ten best countries of medical tourism in 2019 that was announced by the Medical tourism website, there are 6 Asian countries. The top 10 countries are India, Brazil, Malaysia, Thailand, Turkey, Mexico, Costa Rica, Taiwan, Korea, Singapore.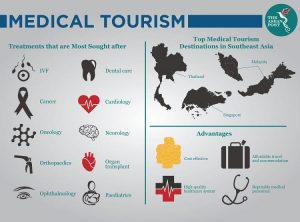 Besides, the intensive research report about the condition to develop the medical tourism market of each area in the world which was announced by Market Watch shows that the potential market for this trend is North American and Asia. This report has also emphasized that Asean is a huge potential market for medical tourism development. Asia- Pacific has occupied 40% the entire of the global medical tourism market. In 2018, the Asia- Pacific market received 7,8 billion USD of revenue from medical tourism.
This success thanks to the government of some countries like Thailand, India, Korea, Malaysia that have the support policies, they also considered medical tourism as the resources for economic development. And for these reasons, many investors are also interested in investing in the private hospital sector. Another important factor is the strong tourism development in ASEAN and Asia in recent years. Thanks to tourism development, travelers have many choices. The services like accommodation, traveling, food… everything is more easier and cheaper for the patient and their family.
Medical tourism in Vietnam
According to The Asean Post, over 80.000 international tourists went to Vietnam to look for medical services, brought more than one billion USD revenue. Besides, according to the statistic of The Ministry of Health, Vietnam received more than one billion USD from medical tourism, this figure just counted for international patients.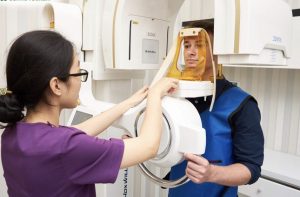 Ho Chi Minh city holds the largest market share for medical tourism in Vietnam with the main products are traditional medical, plastic surgery, dental care. In recent years, Ho Chi Minh City has implemented many solutions to develop this market like: create an application for medical tourism, strengthen media, build intensive services… Meanwhile, Hanoi is highly rated by international visitors with procedure in vitro fertilization (IVF). The capital of Vietnam has a series of big hospitals with modern equipment systems. The IVF experts estimate Vietnam performs about 30.000 IVF cases each year and Vietnam is the country that performs the highest IVF cases in ASEAN.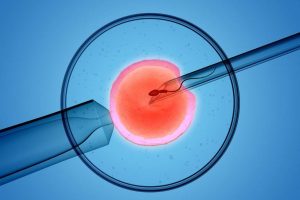 International Living magazine of Australia voted Vietnam to be one of three top countries in ASEAN where Australian tourists believe and choose dental care because they can receive high quality at a cheap cost. Specifically, the average cost for dental care in Australia is about 4.500 Australian dollars. Meanwhile, the average cost in Vietnam is just about 500 – 800 Australian dollars. The cost of dental porcelain service in Vietnam is 1/3 cheaper than in The United States and Australia or the countries in the EU. Forbes magazine said that the cost of performing an IVF in Vietnam is only 1/3 comparing to other countries in ASEAN. If compare with the United States, the average cost in Vietnam is only ¼ because the average cost of performing an IVF in The United States is 20.000 USD.
Not only price but the time is also a factor that the tourist believe and choose medical tourism in ASEAN including Vietnam. If the patient must spend two or three months performing dental porcelain service in The United States or Australia, they can have dental porcelain service in Thailand or Vietnam in only two weeks.
Although, The international tourists believed and chose, a series of big hospitals with professional doctors par other countries in the world such as Bach Mai, E hospital, National Hospital of Odonto – Stomatology, Traditional Medicine, Huu Nghi, Buu Dien, Saint-Paul at Hanoi; Cho Ray, 115, University of Medicine, Tu Du at Ho Chi Minh city, and many private hospitals with modern equipment and high-class services like Hong Ngoc, Thu Cuc, An Sinh, Hoan My, Van Hanh, Viet Phap…However, the medical tourism market in Vietnam is still too modest.
Many barriers that prevent medical tourism development in Vietnam including no policies to encourage development and no coordination between the health sector and the tourism industry. Moreover, most hospitals haven't prepared for human resources to serve this market. This issue is very important because the international tourists aren't like domestic tourists, the doctors and nurses need to be fluent in foreign languages to communicate with them. The most difficulty is that attracting tourists to hospitals requires quality certification with international standards. Most hospitals that were chosen by international tourists in ASEAN have certification of Joint Commission International (JCI). Recognized by JCI means the hospitals has enough conditions to provide medical services including equipment and expertise.
Thailand is the nation that has the most number of hospitals recognized in ASEAN with 67 hospitals, Indonesia has 31 hospitals, Myanmar has the least number of accredited hospitals with only one hospital. Vietnam has 4 hospitals that were recognized by JCI, a modest figure compared to the number of hospitals in Vietnam.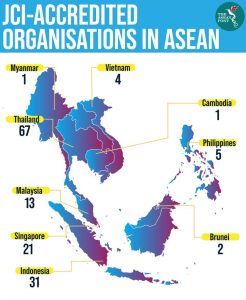 According to The Ministry of Health in 2018, although Vietnam received more than one billion dollars from international tourists, we miss more than two billion dollars with 60.000 Vietnamese went overseas to look for medical services. Moreover, a potential tourist market that must be mentioned is more than 4 million overseas Vietnamese. This figure reminds the Health sector and the tourism sector should cooperate and build the programs which will attract international tourists, domestic tourists, and overseas Vietnamese.
In the context that the whole world is facing numerous difficulties by the Covid 19 pandemic, Vietnam has become a bright spot in disease control and treatment. This success thanks to the Government and the health sector's ability. Vietnam will continue to face many challenges to recover the economy and post-pandemic production activities, but we look on bright side, this is also an opportunity to affirm the position of Vietnam's health sector over the world. It also means that Vietnam's medical tourism can take off from now if we have a specific strategy and action plan.
* References
– https://theaseanpost.com/article/medical-tourism-rise
– https://www.amjmed.com/article/S0002-9343(18)30620-X/fulltext
– https://www.magazine.medicaltourism.com/article/top-10-medical-tourism-destinations-world
– https://www.gminsights.com/industry-analysis/medical-tourism-market
– https://www.marketwatch.com/press-release/medical-tourism-market-sharesize-2020-industry
Nguyễn Lan Hương MBA
Institute for Tourism Development Research