Women in research
"The world needs science, and women's contribution is pivotal to science" – UNESCO (2015)
(Thế giới cần đến khoa học, khoa học cần đến phụ nữ)
The increase of women participation in research shows the capability and contribution of Vietnamese female researchers in developing the economy, enhancing life quality, transforming digitally and creatively the country's workforce…etc. Through researching activities, high-quality findings and honorable achievements, Vietnamese women are receiving recognition from the Government, community and international professionals.
However, there still exists obstacles that challenge women to fulfill their multiple duties, not only regarding their workplace, but also families and other social matters.
1. Women's contribution: an indispensable voice of research
Recent years recorded rapid movement in researching activities among women as they have executed a wider range of topics, areas and achievements. Statistically, about 46% of Vietnamese researchers are women, of which the number are noticeably higher than the world's average proportion (30%). By 2021, there were 21 groups and 50 individuals have awarded the Kovalevskaia Prize for female scientists, and many other national and international awards presented the contribution of women. To add, 3 out of 5 Vietnamese representatives that were named in the Top 100 Asian Scientists were women, namely Dr. Tran Thi Thu Ha, Dr. Vuong Thi Ngoc Lan and Dr. Le Thi Quynh Mai.



Dr. Tran Thi Thu Ha, Dr. Vuong Thi Ngoc Lan and Dr. Le Thi Quynh Mai were honored in the Top 100 Asian Scientists in Asian Scientist Magazine 2021
(https://www.asianscientist.com/as100/)
Research papers through the lens of women offers insightful and even uncovers topics that have been underrepresented, overlooked or hidden in the industry, from issues from marginalized groups to large-scaled urgencies (ie. community's health, energy, environmental protection and advanced technologies). In tourism, for example, Annette Pritchard has referenced evidence stating that: female researchers have been using their knowledge power to tackle gender inequality and oppression (ie. sexual harassment, salary discrimination, lower educational exposure), providing tools, models as well as guidelines for woman empowerment, initiatives and entrepreneurship in establishing their own tourism careers or communities. With passion and expertise for their jobs, woman have blurred the boundaries and stereotypes about their research ability, taking part in changing the life of other disadvantaged people, as well as the whole society.
Additionally, women inclusion in research is essential to the accuracy and success of the research results. Different reports also pointed out the benefits of women participation in research, since females' emotional intelligence, empathy and sophistication lead to more diverse and creative perspectives as well as motivate teamwork spirits and different approaches to the context of the research topic. Data from McKindsay also suggests that female leaders are more frequent than males, portrait higher sense of inspiration, decision-making, rewarding, interpersonal development and role modelling, which are highly applicable for addressing future global challenges.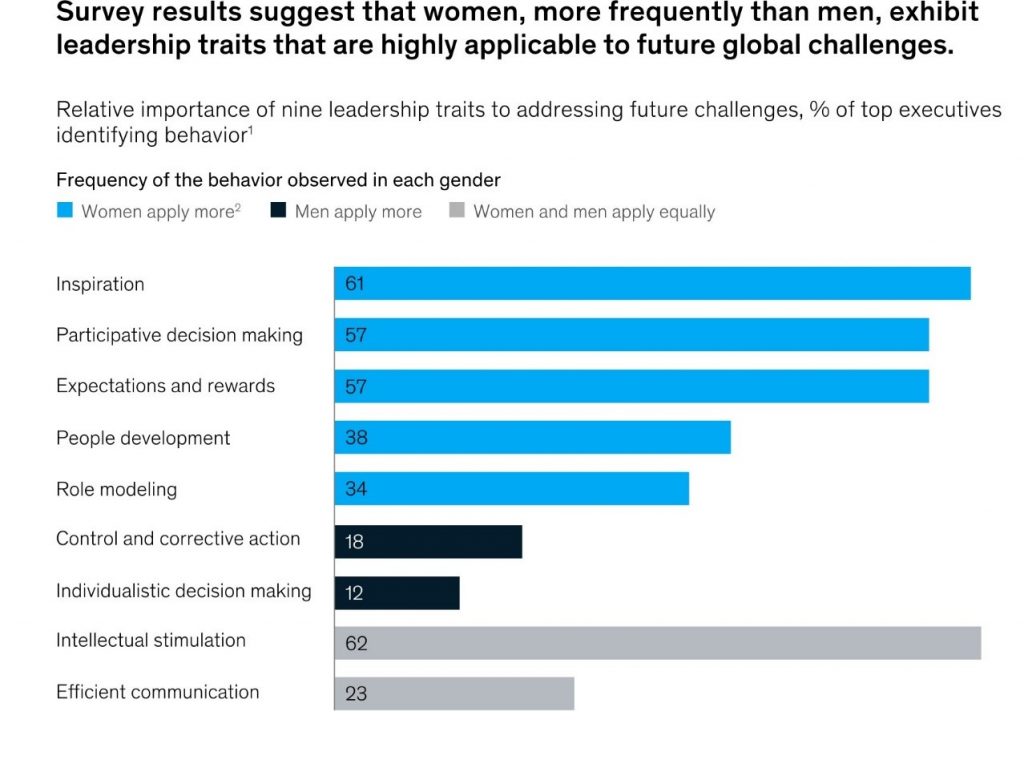 (https://www.mckinsey.com/featured-insights/leadership/when-women-lead-workplaces-should-listen)
2. Difficulties and Challenges to women in pursuing their research careers
Though gaining huge successes in their field, women have not been exposed to leadership roles and authority to research activities. In Vietnam, only one fifth of national-level research topics were led by women. Whereas, internationally, only 6.2% of Nobel Prize winners were women. This reality demonstrates barriers and difficulties that women encountered in their research process that can be named a few below:
• First is the stereotype about women's responsibilities and maternal obligations: In Vietnam and many other Asian countries, women were responsible for duality of roles, which demands them to both handle workplaces' duties and attend their families (especially during COVID-19 outbreaks). In addition, maternity leaves and childcare obligations generate obstacles for female researchers to fully in charge of their research activities. Since research is characterized by its complexity, depth and accuracy, there needs to be thorough efforts, patience and concentration spent to accomplish the research goals. Without family's empathy and workplace supports, many women struggle to bear this "double burden" in their life.
• Second is gender bias towards women in the workplace: A report by UNESCO has indicated how gender bias in work environment affects women's pursuit of their careers: female applicants are not receiving as much consultation and wages compared to male applicants in university faculties. Likewise, women have less access to research fundings and necessary tools for advanced or greater-sized studies. Moreover, in Vietnam, many research organizations are reluctant to employ or entitle leadership positions to female colleagues, reflecting how prejudices towards women's performance and productivity hinders recognition of their achievements and developmental pathway.
• Policies towards women in research were another cause: Current mechanisms, policies and regulations on age of remunerating female staff were lacking sessions about terms of salary raises. Besides, considering the difference in biological structure of females, policies for researchers have not extensively included "special conditions" for women, given that these policies are applying to both male and female counterparts.
3. Recommended solutions
The existing issues call for a need to fix the system, from the policy-making levels to the society and research entities.
From the governmental perspectives, raising society awareness about women's capability and indispensability in scientific research should be consistently strengthened through propaganda, education and social campaigns about gender equality as well as career consultation programs among educational units. Renewing and refreshing methods of communication are recommended to effectively spread the message for women in research, such as the application of social media and mobile apps for diverse forms of education.
Moreover, vital is the formulation of specific policies for research activities and mechanism that are more empathetic and considerate of women's gender characteristics and conditions, in terms of salary raises, promotion, allocation, training, selection, recruitment and more. To deploy this, the inclusion of female researchers in the process of policy planning is primary. Additional supports for women should be more regularly and evenly proceeded and distributed. A suitable approach is to enhance and expand research programs specified for female researchers, accompanied with financial aids and prizes to encourage women's development and passion for research. Parallelly, marginalized female groups, such as ethnic minorities or women working in mountainous/remote areas, should be nurtured and given preferential benefits with the purpose to empower disadvantaged groups and advance local education.
Research organizations are responsible for designating recruitment, training and remuneration procedures that are open, transparent and unbiased towards women. In this sense, a set of criteria in the monitoring and evaluation of research paper should be disclosed and implemented with the participation of woman leaders. Towards the career pathways and assistance for female researchers, knowledge-exchange sessions between different research units and women empowerment workshops are suggested to be organized frequently. Likewise, if connections and partnerships with open financial research sponsorships for women (ie. UNESCO-l'Oréal International Fellowships) are established and reinforced, there will be more opportunities given to assist female researchers execute their desired projects. Some possible sponsorships/organizations available could be named, such as UNESCO-l'Oréal International Fellowships, The Organization for Women in Science for the Developing World, Women in Research,…etc.
Conclusion
Women's innovative capacity and competitiveness are increased by countries, corporations, and organizations that create an enabling environment for them. A variety of viewpoints, creativity and expertise would benefit research endeavor in generating new solutions and expand the scope of research. Involving and comprehensively facilitate women in research is, thus, a paramount objective to shape high-quality research results and boost up the research workforce in a sustainable manner.
Reference list:
1. Pritchard, A. (2014). Gender and feminist perspectives in tourism research. The Wiley Blackwell companion to tourism, 314-324.
2. http://hus.vnu.edu.vn/tin-tuc-su-kien/tin-tuc-chung/-the-gioi-can-den-khoa-hoc-khoa-hoc-can-den-phu-nu -58704.html # .YWVNwtpBxEY
3. https://en.unesco.org/news/just-30-world%E2%80%99s-researchers-are-women-whats-situation-your-country
4. https://phunumoi.net.vn/giai-phap-de-phu-nu-tham-gia-nhieu-hon-trong-linh-vuc-nghien-cuu-khoa-hoc-va-toan-stem-d220616. html
5. https://www.asianscientist.com/as100/
6. https://www.independent.co.uk/news/world/women-nobel-laureates-uality-quotas-b1936608.html
7. https://www.mckinsey.com/featured-insights/leadership/when-women-lead-workplaces-should-listen
8. https://www.noip.gov.vn/vi_VN/web/guest/tin-tuc-su-kien/-/asset_publisher/7xsjBfqhCDAV/content/phu-nu-trong-cong-tac-nghien-cuu-khoa- hoc-va-cong-nghe-vinh-quang-va-thach-thuc
9. https://ru.unesco.org/sites/default/files/usr15_is_the_uality_gap_narrowing_in_science_and_engineering.pdf
 Bui Kieu Trinh – Research Management & International Cooperation Division (ITDR)