Sufficiency Economy Philosophy: Thailand's Path towards Sustainable Development Goals and recommendations for community-based ecotourism development in Viet Nam
Overview of Sufficiency Economy Philosophy
The Sustainable Development Goals (SDGs) are derived from the Millennium Development Goals. The United Nations expanded them into the international agenda from a global vision to nationally deliverable action applicable to every country. In reality, a number of best practices have ben widely exchanged among nations in their genuine partnerships. It is clearly shown in the case study of Thailand that the principles towards the SDGs are on the same page of the nation's policies orientation in recent two decades – which is known as Sufficiency Economy Philosophy (SEP) – putting people and the environment first, not profit maximisation – for their children's sake.
SEP or Sufficiency Thinking, is not a onesize-fits-all policy recipe or technique. Rather, it is rational decision-making that is practical, simple to implement, and flexible to different challenge. SEP oriented decisions are required to be inclusive, costeffective and environment-friendly. But SEP is more than plain rationality to weigh the pros and cons, costs and benefits of different choices at hand with different consequences. It is a well-rounded reasoning governed by ethics, morality and knowledge for the common good. It is obvious that the seriously overwhelmed consumption behavior and excessive resources exploitations against the environment capacity; the globalization brings with it economic both uncertainties and risks. Thus, SEP advocates prudence and built-in self-immunity to cope with external shocks in bottom-up approach. In hindsight, the 1997 economic crisis gave international economies a first-hand experience that it is how fragile unsustainable growth is when the economic development does not built on the foundation of needs, way of lives and environments of local people and businesses. While Thailand economy suffered from economic pain, the government and buesinsses started to embrace sufficiency thinking, putting in place measures to ensure good governance, including the bottom-up decision-making, which respects the people and businesses voices, knowledge, culture and geographic situations of localities.
Since then, the Sufficiency Economy Philosophy has become Thailand's development compass, directing the country with the common intention of development which is based on the principles of moderation and avoiding redundancy. Particularly, the country advocates good management of risks and appropriate technology with special emphasis on inclusive decision-making, care for the environment, and the well-being of the marginalized people.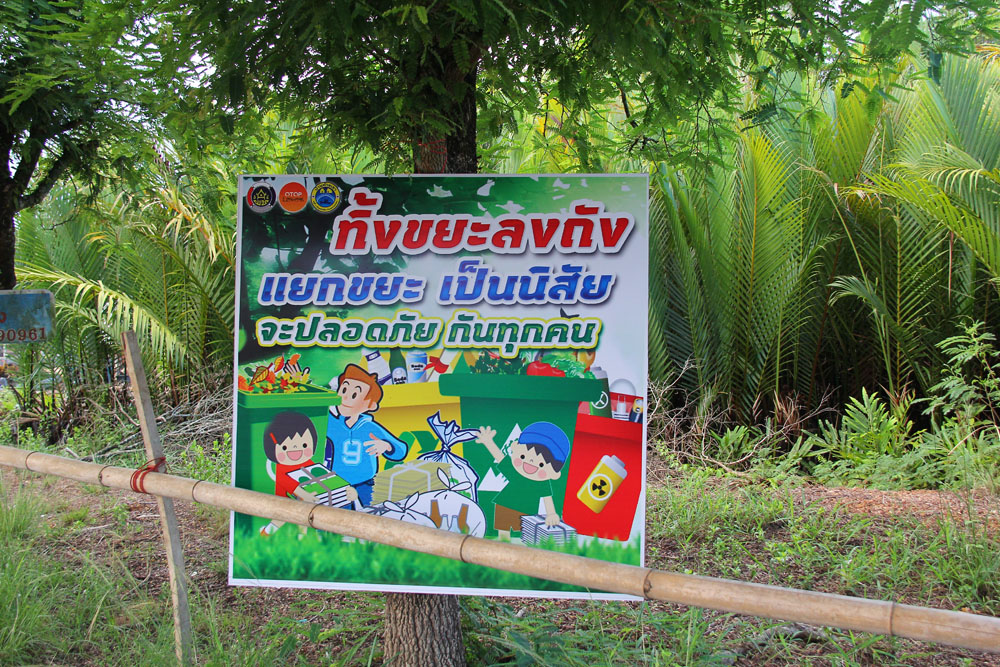 However, the most frequently asked question about SEP is "how" to make the best use of it, how to make people change their mindsets. Our answer is always the same. It is first and foremost an open, participatory decisionmaking process whereby everyone has an equal say. Interestingly, the change of mindset must start at the top, but having good intentions alone does not work. Enabling a bottom-up process does. People on the ground know best their problems, strengths, and constraints. When they have a say, they become active citizens, taking ownership of the efforts to solve the problems at hand.
Different countries may have different development approaches to achieve the sustainable development goals. Yet, it's good for us to learn from one another as we can reach sustainable development goals faster. Thailand's SEP experience is proof that the United Nations' 17 Sustainable Development Goals can indeed be attained when we truly believe that our people, our environment and our future generations matter.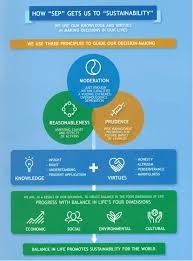 Development of community-based ecotourism in Thailand under the Sufficiency Economy Philosophy – best practice of Ban Nam Chiao village, Trat province, Thailand
Ban Nam Chieo, which is located approximately 8kms to the south-west of Trat town centre, is on Highway 3148 from Trat to Laem Ngop. It is on Thailand's eastern seaboard to Koh Chang or Cambodia. Ban Nam Chiao is a living and working community complete with schools, places of worship and markets, where the natural diversity is merged by mangrove forest, mangrove planting, fish watching. The local people, who are Muslims and Buddhists, live in harmony through generations. All walks of community life involve in tourism activities: men drive canoes, women guide on the boat and instruct cooking, and children perform traditional dances. The craft is creatively maintained with conical hats, sweets, among other local wisdoms. That's the reason Ban Nam Chiao received an award of eco-tourism community that welcome the most Thai and overseas visitors.
The results show a vivid progress of community-based tourism (CBT) development which is based on local wisdom, knowledge accumulation, science and technology innovation, and business skills and creative thinking. Firstly, the community defined the potentials of human resources, culture, and society. The approach is that they evaluate the current situation of such sustainable development aspects as environment, economy and society, which is a foundation for decision-making. The Designated Area for Sustainable Tourism Administration – DASTA chose Ban Nam Chiao as one of the CBT models as it's completion of 9+1 process: 1. Networking: all related stakeholders involve in planning; 2. Tourism assets & activities: Availability of tourism resources and activities including craft village, rice plating, traditional art performance and accessment; 3. Value propositions: Values identification, such as a story to tell, a dance to perform, a craft and lifesty to show, and professional guided agency; 4. Relationships: Building relationships and partnerships; 5. Your stakeholder segmentations: Assignment of related stakeholders' responsibilities: children, women, the elderly, the educated and skilled, the youth,…; 6. Community assets: tangible assets including natural resources and intangible ones as local wisdom; 7. Communication channels; 8. Cost & negative impacts; 9. Revenue stream & positive impacts; 10. Dialogue. To choose a destination, DASTA highlights the two main criteria which are the willingness and the readiness. The willingness is the fundamental factor as without the community willingness, the CBT is not be possible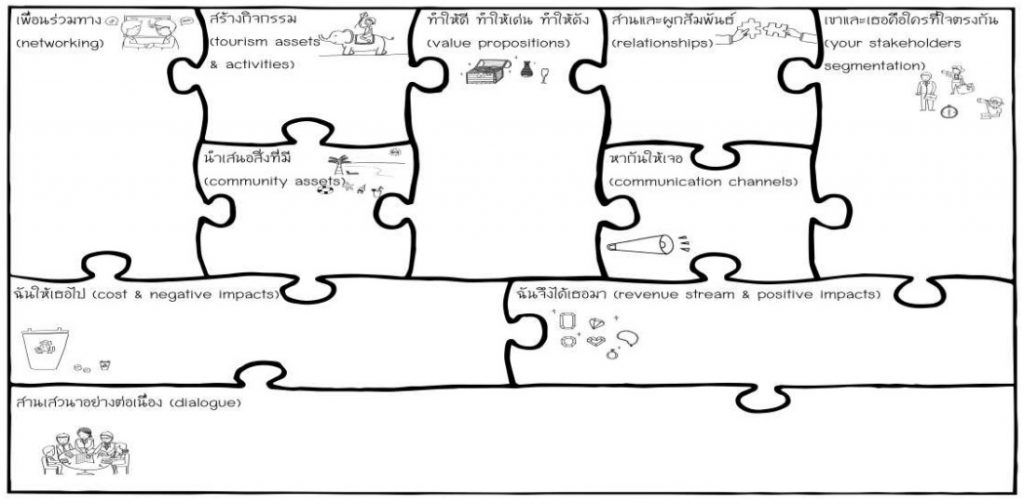 Lesson learnt for developing CBT in Viet Nam
From the case study, it can be concluded that the seccesive factors for a CBT development models are: 1) developing tourism based on regional and international recognized standards; 2) developing high value quality tourism products to meet the needs of international tourists; 3) organizing tourism activities in line with making the best use of community learning centers; 4) ensuring the reality of community life is showed tourism activities; and 5) following the concepts of sustainable tourism.
Recommendations: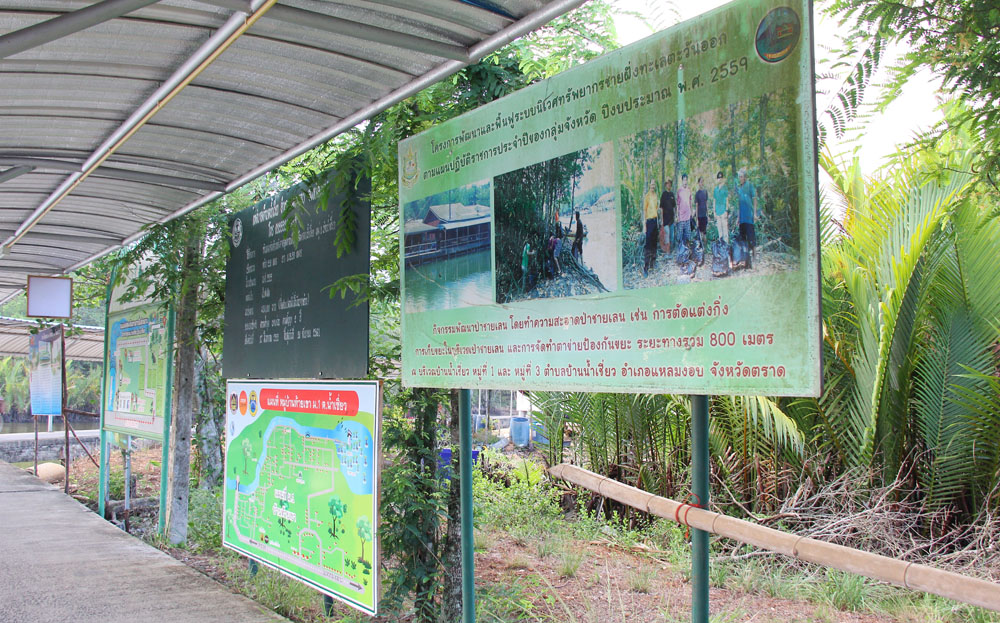 In CBT planning, it is noteworthy for the bottom up approach:
a. Identifying what value that the community wants to preserve and develop.
b. Knowing themselves: what they have and are willing to share their experiences, habits and lifestyles, especially traditions that have been preserved for generations.
Designing and building detailed plan that satisfy the creativeness:
a. Defining a new model for sustainable tourism.
b. As communities often have low living standard. They need to be guided to build high-end tourism products to satisfy tourists.
c. Determining the difficulties communities have to give prioritized support.
Improving community participatory capacity in thinking, planning, resources utilities and benefit sharing;
Designing community-based ecotourism models that follow the concepts of sustainable tourism, prioritizing the community and the environment benefits.
Reference: Ministry of Foreign Affairs of Thailand, (2017), Sufficiency Economy Philosophy: Thailand's Path towards Sustainable Development Goals, Bangkok Post.
Chien Thang