Vietnam International Travel Mart – VITM Ha Noi 2019 coming soon
Vietnam International Travel Mart – VITM Ha Noi 2019 will be held from 27 to 30 March 2019 at the Ha Noi International Exhibition Center, 91 Tran Hung Dao Street, Hoan Kiem District, Ha Noi by Vietnam Tourism Association and Vietnam Society of Travel Agents, attracting the participations of the State management agencies for tourism, tourism promotion organizations, tourism associations and the Vietnamese and international tourism enterprises.
Since its first edition in 2013, VITM has identified itself as an annual top-ranking professional and prestigious outbound tourism and travel show in the region. Every year, thousands of domestic and international enterprises and dozens of tourism promotion agencies from a good many countries and localities throughout Vietnam register for their respective activities at the country's biggest playground for tourism stakeholders and actors. Following each and every success of the previous VITM season, the number of the participating companies and organizations continue to increase as the registration of new local and international participants.
VITM Ha Noi 2019 will feature the participation of over 500 booths of exhibiting businesses from 47 provinces and cities throughout Vietnam and 25 countries and territories. Each participating locality and country will bring to the Mart its unique cultural nuance to attract travel companies and VITM visitors. The fair also provides the participating countries, localities and businesses with an opportunity to present their tourism products, creating chances for business cooperation through organizing abundant activities such as press conferences, seminars and workshops, traditional art performances and so on.
With the theme of "Green Tourism", VITM Ha Noi 2019 will guide its participating companies to engage in protecting environment and biodiversity, and adapting to climate change with practical activities to ensure the sustainable development of Vietnam tourism. VITM wants to send with this theme a message that "Vietnam tourism enterprises are aware of their responsibility to protect environment, and will actively contribute to the economic restructuring efforts of the regions affected by climate change, and help improve the life of the local residents in the environmentally sensitive areas through tourism activities".
Last year, VITM Ha Noi 2018 attracted 502 booths representing 675 enterprises, in which 112 stands which belong to tourism businesses and promotion agencies from 21 countries and territories to introduce and purchase products. The road show witnessed about 3.000 arrivals of businesses and 60.000 visitors reached out to the event to perform exchanges, shopping and enjoying the show.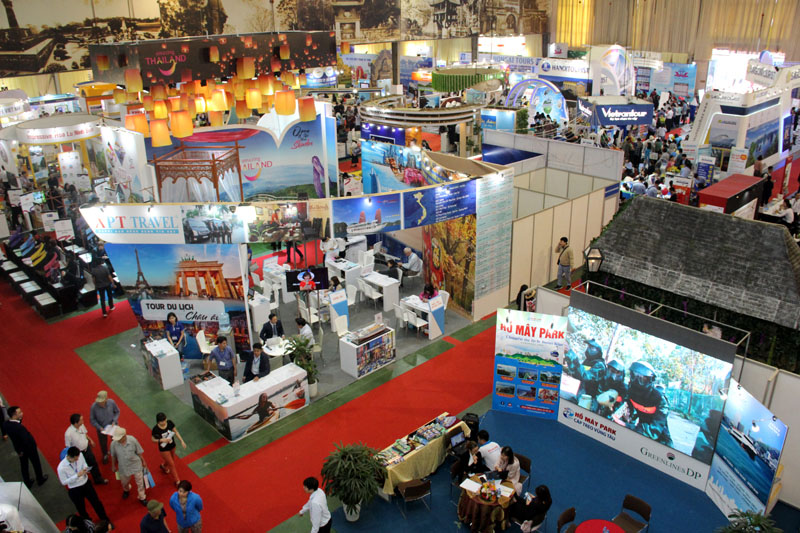 Chien Thang